FoVea is pleased to announce the winners of our 2023 FoVea Travel and Networking Award.
The FoVea Travel and Networking Award was open to female members of the Vision Science Society (VSS) in pre-doctoral, post-doctoral, and pre-tenure faculty or research scientist positions and intended to cover costs involved in attending the VSS meeting, including membership fees, conference registration fees, and travel expenses.  
FoVea created this award as part of its mission to advance the visibility, impact, and success of women in vision science. A recent report from Cooper and Radonjić (2016) indicated that in 2015, the ratio of women to men in VSS was near equal at the pre-doctoral level (1:1.13), but decreased as career stage increased. The decline is symptomatic of forces that impede the professional development of female vision scientists. A key aspect of professional development is building a professional network to support scientific pursuits and to provide mentorship at critical junctions in one's academic career. The FoVea Travel and Networking Award will help female vision scientists build their professional network by encouraging them to meet with at least one Networking Target at the VSS meeting to discuss their research and consider potential for collaboration.
13 awards were funded by an NSF grant and 1 award was funded by the Visual Cognition journal.
Seoyoung Ahn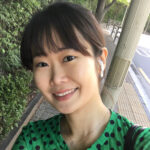 Seoyoung Ahn is a Cognitive Science Ph.D. candidate at Stony Brook University, where she works with Dr. Greg Zelinsky. Her research interests broadly span the understanding of how humans can obtain stable, yet flexible, representations of their visual environment, and using computational models to explain and predict human visual behavior. Currently, she is exploring the use of generative neural networks as a unified underlying mechanism to explain human object-based perception and attention. Her long-term goal is to develop a cognitive-science-driven AI research and training program, pioneering interdisciplinary vision research that combines computational and behavioral approaches. This would enable safer and more effective machine and human interactions in the future. More information about her research can be found at https://ahnchive.github.io/
Ilona Bloem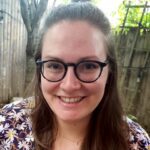 Ilona Bloem is a postdoctoral researcher at the Spinoza Centre for Neuroimaging, working with Serge  Dumoulin. She obtained her PhD at Boston University, working with Sam Ling. Afterwards, Ilona did a first  postdoc in the labs of Jonathan Winawer and Mike Landy at New York University. Her research focuses on  the neural mechanisms underlying perception and cognition. Broadly, she is interested in how our perception  of the world around us can be shaped by cognitive influences, such as attention and working memory. The  methods she employs span a wide range: functional neuroimaging (fMRI and intracranial EEG) to measure  brain responses; psychophysics to measure human behavior; and, computational modeling to link brain and  behavior to theoretical models.
Vassiki Chauhan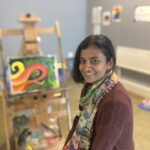 Dr Vassiki Chauhan is a postdoctoral fellow at Barnard College in the Barnard Vision Lab, led by Dr Alex White. Her work focuses on how the brain allows us to read written language, and how neural responses from text selective regions are modulated by different task demands. During her PhD, under the supervision of Dr James Haxby and Dr Maria Ida Gobbini, she studied responses in the distributed network for face perception to faces embedded in a naturalistic context and perceptual benefits in detecting, identifying and recognizing faces of personally familiar individuals. Across different aspects of her research, she is interested in investigating neural responses to elements of the visual environment that constitute distinct perceptual categories, such as faces and words, which underlie complex behavior, such as the ability to navigate social interactions and to communicate using language. Outside of her scientific work, Vassiki volunteers for the print magazine, Science for the People, and enjoys spending her free time painting, reading, playing RPGs and walking around Manhattan.  
Anna Corriveau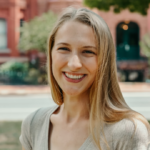 Anna is a third-year PhD student in the Psychology Department at the University of Chicago working with Dr. Monica Rosenberg. She received BAs in Psychology and Neurobiology from the University of Wisconsin-Madison in 2018 before joining the Section on Learning and Plasticity in the National Institute of Mental Health as a post-baccalaureate research fellow under the mentorship of Dr. Chris Baker. Anna's work aims to understand how sustained attention varies within and across individuals and perceptual modalities. She is interested in using neural and behavioral signatures of sustained attention to build predictive models of attentional performance. Ultimately, she hopes to leverage these models to understand how we focus on information from different perceptual modalities and to predict and avoid upcoming lapses in attention.
Michaela DeBolt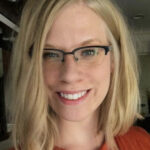 Michaela DeBolt is a PhD candidate and Provost Dissertation Fellow at the University of California, Davis, studying infants' visual cognitive development. Michaela received her Bachelor's degree in Psychology from the University of Minnesota, Twin Cities, where she worked with Dr. Vanessa G. Lee and cultivated her passion for studying visual attention. After completing her undergraduate degree, Michaela joined Dr. Lisa Oakes' lab at UC Davis, where she is currently pursuing her PhD in Developmental Psychology. Her research investigates infants' cognitive and perceptual abilities, with a particular focus on attention and learning. In addition, Michaela has a passion for science reform and critically evaluating and improving methods for measuring infants' looking behavior. Her dissertation centers on understanding how contextual influences can shape infants' developing spatial attention skills and how publication and sampling biases can impact our interpretation of cross-cultural findings.
Evi Hendrikx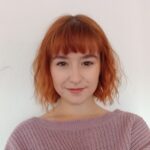 Evi Hendrikx is a third-year PhD student at the department of Experimental Psychology at Utrecht University, (co-)supervised by Dr. Ben Harvey, Dr. Nathan van der Stoep and Dr. Stefan van der Stigchel. Her PhD centers around responses to visual event timing across the human cortex. She is also interested in responses to other quantities, particularly the potential parallels and interactions in their processing. Using 7-Tesla fMRI and neural model-based analyses she investigates how such responses and/or the relationships between them progress over their respective processing hierarchies. She obtained her BSc Psychobiology and MSc Brain and Cognitive Sciences at the University of Amsterdam.
Brianna Hunter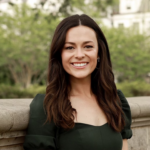 Brianna Hunter is a postdoctoral scholar at the UC Davis Center for Mind and Brain working with Drs. Lisa Oakes and Steve Luck.  She earned her Ph.D. in Psychological Sciences from Tulane University in 2022. Prior to her doctoral work, she graduated summa cum laude from the University of Florida in 2017 with a B.S. in Behavioral and Cognitive Neuroscience. Brianna is broadly interested in the reciprocal relationship between attention and learning during infancy. Brianna's current research uses eye tracking and computational modeling approaches to understand how infants' unique experiences shape the way they visually explore naturalistic scenes.
Samantha Jenks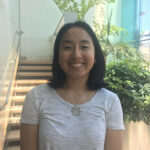 Samantha Jenks is a third-year graduate student from the Brain and Cognitive Science Department at the University of Rochester. She works with Dr. Martina Poletti in the Active Perception Lab and is currently investigating the sensitivity of multiple locations within the 1-degree foveola. Specifically, she studies the sensitivity differences along a given eccentricity in the foveola utilizing a custom-built high precision eye tracker and gaze contingent display control. Her interests also involve looking at the neuronal underpinnings of these sensitivity differences. As a result, she also uses an adaptive optics scanning laser ophthalmoscopy (AOSLO) to take pictures of the retina in order to correlate cone density with sensitivity at the behavioral level.
Natalia Khodayari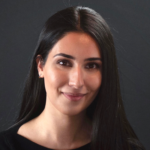 Natalia Khodayari is a third-year PhD candidate co-advised by Drs. Susan Courtney and Howard Egeth in the Department of Psychological and Brain Sciences at Johns Hopkins University. Her research focuses on investigating the neural mechanisms of visual attention, particularly that of target enhancement and distractor suppression using various methodological (behavioral, neuro-imaging, and computational) and design (group- and individual-differences) approaches. She is currently behaviorally investigating whether separable neural mechanisms of enhancement and suppression exist using an individual differences approach and is excited to extend this project to EEG. She aims to apply her research to improve educational equity, occupational safety, and pharmacological efficacy. Natalia received her B.S. in Neurobiology, Physiology and Behavior from UC Davis and her M.A. in Psychology from Johns Hopkins. She previously served as an undergraduate research assistant advised by Drs. Ron Mangun and Steve Luck and, upon graduation, as a Junior Specialist under Dr. Tamara Swaab.
Lisa Kroell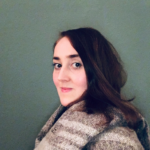 Lisa Kroell is a final-year PhD student in the group of Prof. Martin Rolfs at Humboldt-University of Berlin. While she is interested in all things eye movements, her research focusses on the dynamics of foveal vision immediately before large-scale saccades: Using psychophysical methods, she investigates how the features of a peripheral eye movement target predictively shape perception in the center of gaze. Lisa also has a keen interest in pre-saccadic attention, the influence of natural scene statistics on oculomotor behavior, and animal models of active vision. She received her BSc in Psychology and her MSc in Neuroscience from Ludwig-Maximilians-University Munich.
Florencia Martinez Addiego
Flo is a third-year PhD candidate in the Interdisciplinary Program in Neuroscience at Georgetown University under the co-supervision of Drs. Ella Striem-Amit and Max Riesenhuber. She earned dual BS degrees in Neurobiology and Mathematics from Georgetown University in 2020. As an undergraduate, Flo studied the neural correlates and brain volumetric changes of Chronic Fatigue Syndrome and Gulf War Illness with Dr. James Baraniuk which resulted in multiple co-authored publications including one first-author paper. Flo's current research leverages fMRI to investigate the neural correlates of action representations, and the existence of abstract action representations. She is very interested in understanding how a hierarchical structure, as has been proposed for visual object recognition, may be leveraged in action observation and action execution to facilitate generalization. 
Anna McCarter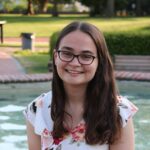 Anna McCarter received her BS and MS in Neuroscience from the University of Delaware where she worked with Dr. Tim Vickery. Her work there focused on visual working memory, visual statistical learning, and reinforcement learning. Anna is currently a PhD Candidate in the Cognition and Cognitive Neuroscience Program at the University of Massachusetts at Amherst where she works with Dr. Jeffrey Starns. She is primarily interested in ways to improve visual long-term memory. Her recent work showed that, unexpectedly, the testing effect does not apply to novel, visual stimuli. Anna's dissertation focuses on how drawing and tracing are beneficial for visual long-term memory in young adults, older adults, and people with Alzheimer's disease.
Sanika Paranjape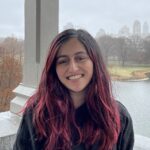 Sanika graduated from Case Western Reserve University in 2019 with a BS in Biology and Cognitive Science. She then worked as a postbac researcher at the National Institute of Mental Health with Dr. Chris Baker. In his lab she studied face and object perception, and became more interested in cognitive neuroscience, especially vision research. Currently, Sanika is a second-year graduate student at The George Washington University in the labs of Dr. Sarah Shomstein and Dr. Dwight Kravitz. She is interested in studying how visual working memory interacts with and influences the perception of faces, high-level judgments, and other complex stimuli.
Tess White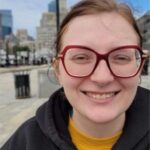 Tess is currently a 1st year graduate student in the Cognitive Brain Sciences program at the University of Nevada, Reno.  Her current interests include object perception, occlusion and the viability of tripolar EEG as an effective neuroimaging technique in vision science under the mentorship of Dr. Gideon P. Caplovitz. She is currently researching new constraints to amodal completion models. She has worked with Dr. Bill Warren studying human navigation, and Dr. David Sheinberg studying the effects of dynamic stimuli on visual search tasks, both at Brown University. She was a long time member of the Attention in the Brain EPSCoR consortium led by Dr. Peter U. Tse at Dartmouth University.
You can view past recipients here.